"You get to feed the giraffes – it's the best part!" I've heard over and over again. Honestly that's all the incentive I needed. When there is an opportunity to feed giraffes just a few miles away on the southwest side of town, you just gotta do it! I picked a sunny afternoon, packed myself snacks and set off to find those giraffes! (The zoo asks that you purchase their giraffe food, not bring in anything that might upset their diets.)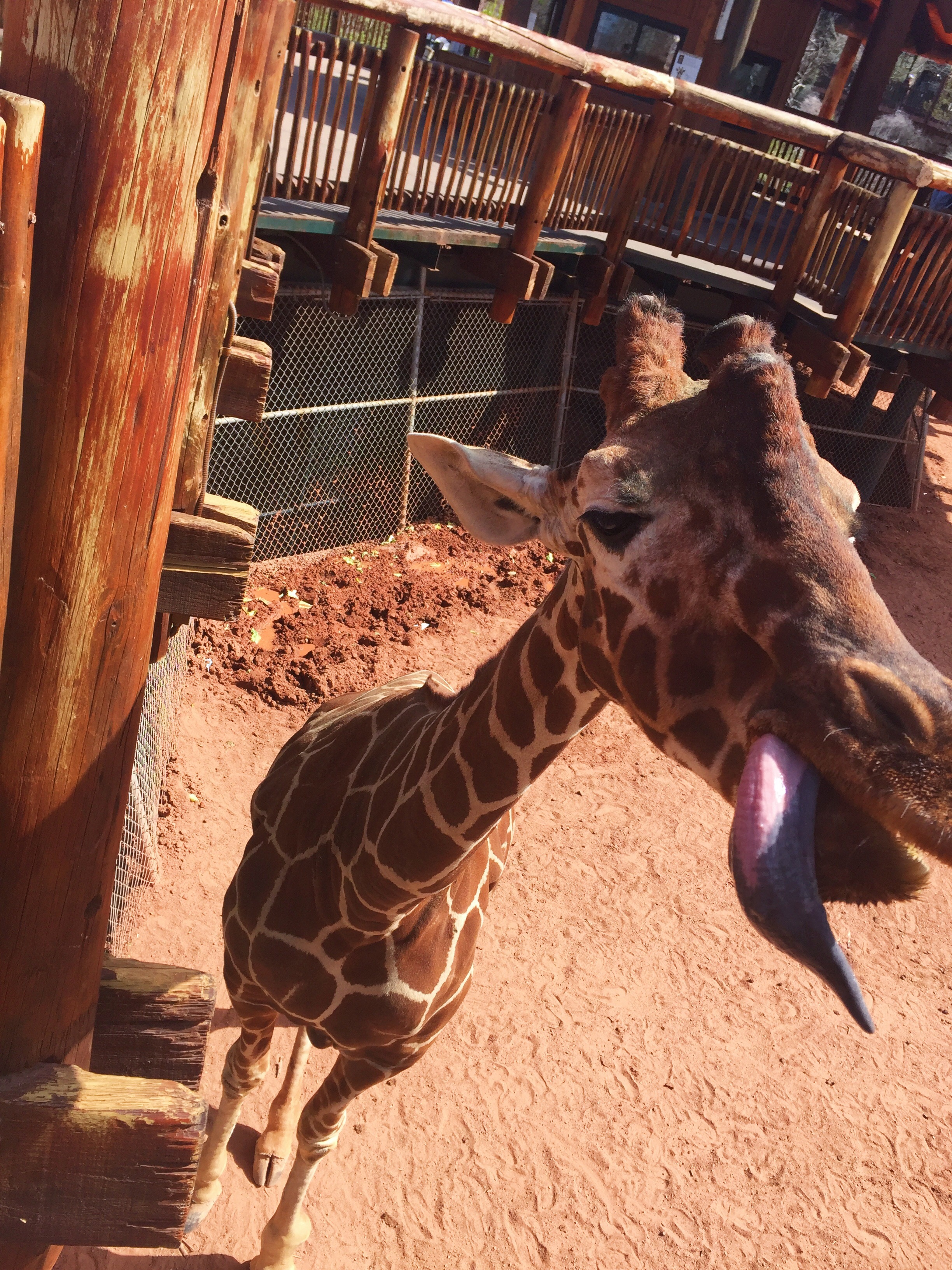 The most ingenious part of Cheyenne Mountain Zoo is the way that the architects integrated the mountainous landscape into building natural and yet interactive habitats for the animals. From the zoo entrance, we walked up a short hill and then out onto a boardwalk that took us around the giraffe enclosure at their level! We weren't staring at the animals through two thick fences and six feet of buffer space – we were on a safely enclosed deck and boardwalk were we could actually reach over and feed the giraffes!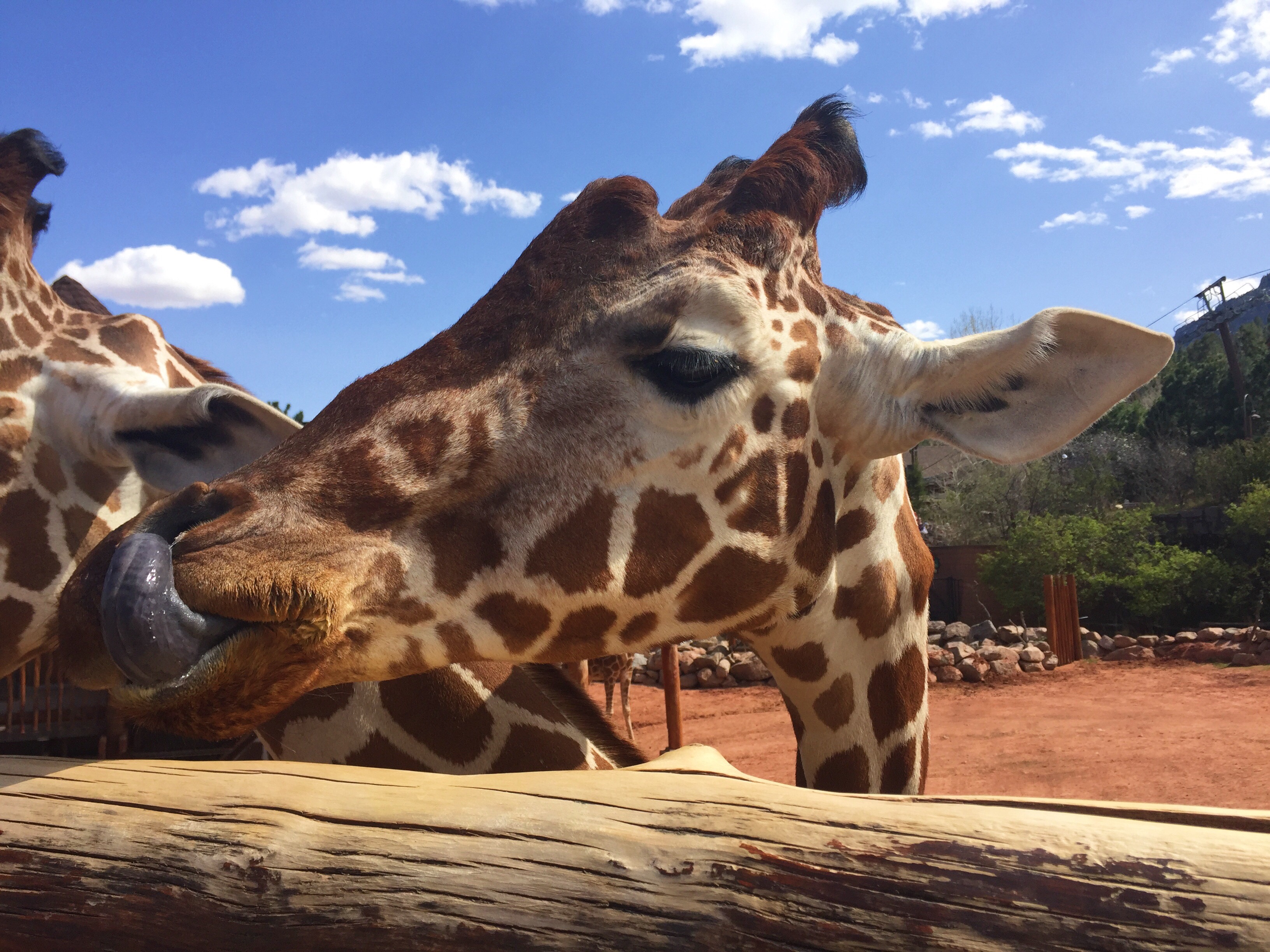 So many times I just wanted to reach over and scratch their fuzzy, knobby foreheads!
Stroller-pushing mamas and parents of tiny-legged tots, you will appreciate that although the lion cage was near by, there were no stairs or steep ramps to get there! We followed the boardwalk around the second part of the enclosure and found ourselves back on a paved path that led into the lions' (slightly more enclosed) area. The glass was thick, but we could still hear the playful roars and the banging as they played with the plastic barrel.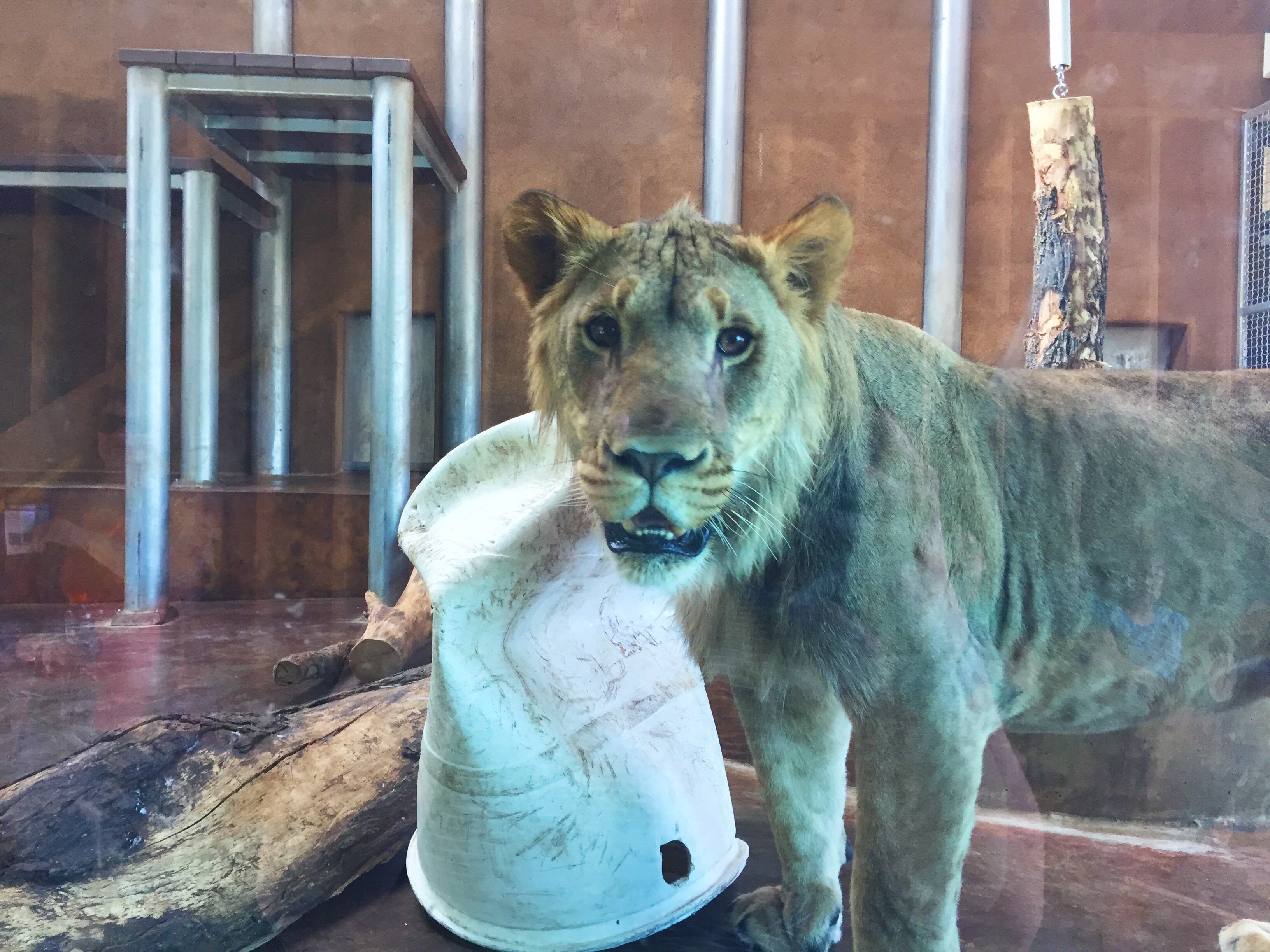 There were many, many exhibits that we thoroughly enjoyed – not least the monkeys! However, my favorite part of the monkey house was the sloth's living quarters – the sloths are so slooooooow and nappy that they have their slings and branches right out in the open. We couldn't even tell if they were real or just a display until we noticed one of them breathing. You can just see tufts of his coarse, blond hair on the edge of the triangular hammock.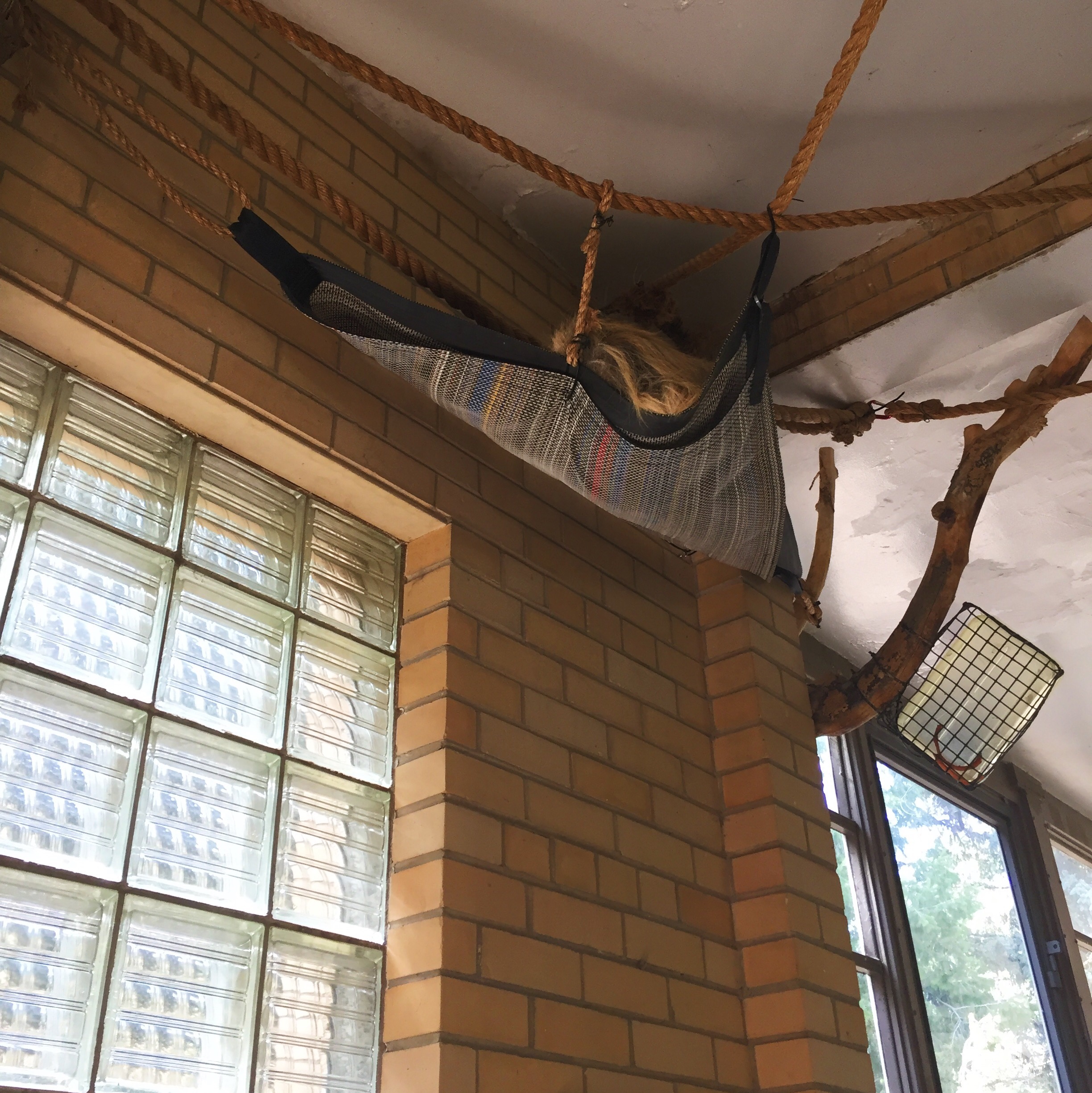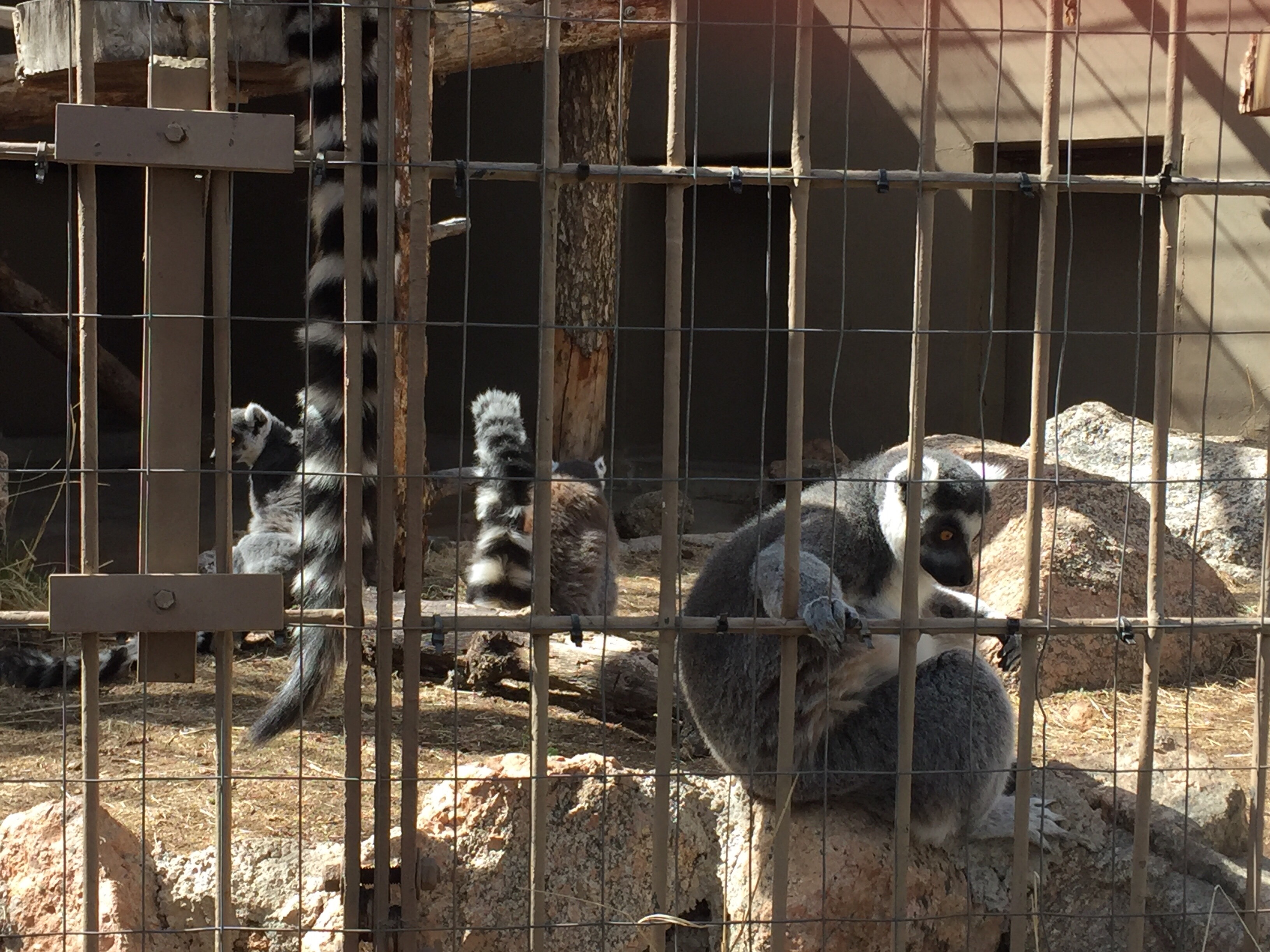 Along with zebras, lions, rare animals and curious creatures like the monkeys, Cheyenne has several animals native to Colorado. I loved the moose exhibit most of all, since I've never been quite that close to a moose before. Just as exciting were the stash of antler sheds they'd collected from him during his stay. Moose (and elk and deer) shed their antlers every year in late fall or early winter. Tacked to the back of the moose's shelter there were several sets of antlers that they'd collected yearly as he shed them within his enclosure. Over the several sets, it was possible to track his growth over the years.
The genius of the zoo – both it's architecture and it's policies – was impressive throughout our entire visit. A safe amount of interaction was allowed with many of the more gentle animals, such as the goats (where children are allowed inside the pen with the supervision of zoo employees).
There are also multiple ways to see each animal in their habitat: most of the spacious and natural "cages" featured both a ground level and/or glass viewing area, and a boardwalk above or around the animal's space for a more comprehensive view. And last but not least, all of the zoo's animals are rescues – they don't breed animals to keep in captivity or capture animals to add to their collection, but take into care animals that need special care, recovery opportunities, or a safe place to live.
Overall, I highly recommend Cheyenne Mountain Zoo for a great afternoon of enjoyment no matter your age! Bring or rent a stroller, and take the entire family, or even go enjoy a unique date experience! Be sure to share your photos on Facebook, Instagram or Twitter, and use the hashtag #AspenLeafCottages for a chance to have your photo featured on our media sites!