Over the last few weeks we've spent several hours working all together, coming as often as our collective schedules allow to finish furnishing and decorating the last craftsman cottage. It's a fun experience; there will be four or five of us putting together bookshelves, washing windows, brewing a pot of coffee, hanging curtains, stocking the bathrooms. Others are in and out helping to haul away boxes and other garbage, assembling bed frames, and finishing the last of the drywall and painting.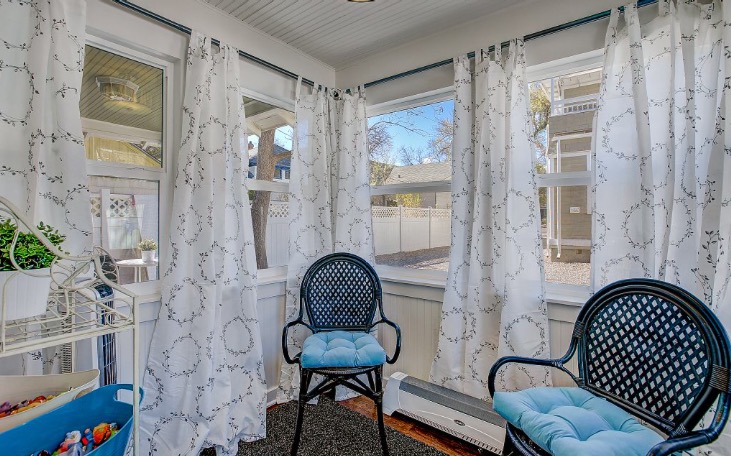 I ran over for a final fifteen minute assignment of helping to unpack and make the bed. We pulled the sheets tight, flapped the comforter over it with a whoosh, and plumped up the throw pillows. (Ladies, if you love throw pillows but hubby won't let you have them at home, come stay in one of our cottages. We have all of the throw pillows.)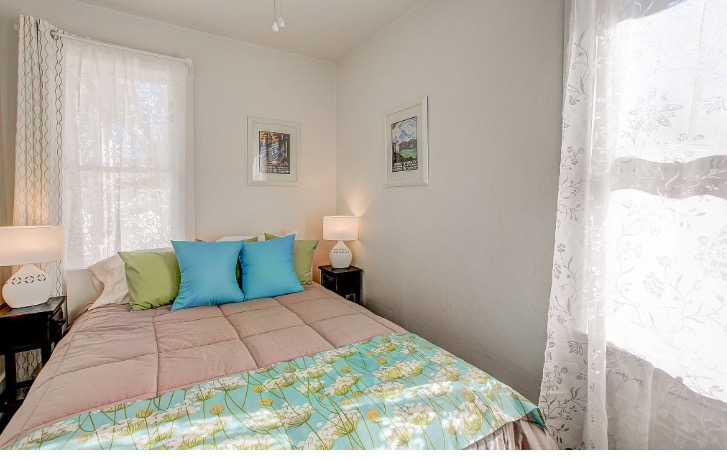 After the bed was finished, we all wandered through the rest of the cottage, admiring our handiwork, and excited to hear how our guests like it. In the front there's a porch, and if you prefer windows to open air, there's a sun porch as well. The first room of the house spans its entire width – there's a sitting area with lamps and couches, a bookshelf, and a desk. (The access to the bedroom and bathroom are here as well.) The kitchen is long and wide – dark wood counters throw the white walls into colorful relief. Coffee and mugs (the important things) are displayed in an open storage shelf while the rest of the utensils are tucked into white cabinets.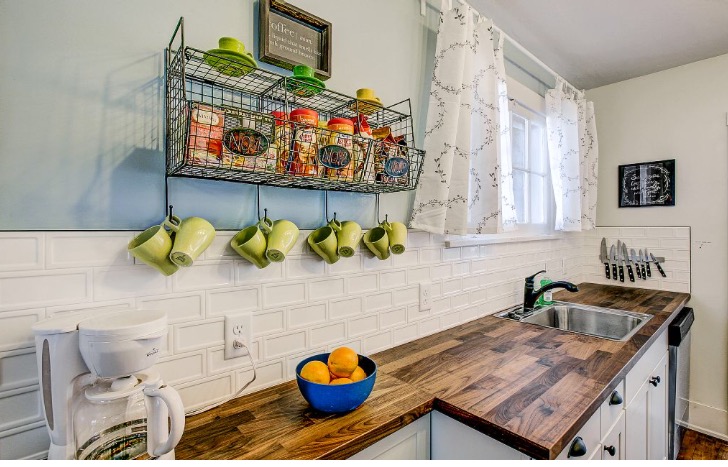 The rear of the cottage is the highlight. The walls are mostly window on three sides. There's a TV (with a paid Netflix account – you're welcome), a dining room table, couches, and a fold-out bed. Yeah – a small space like this can still sleep six with a bit of creative planning!
We all scattered ourselves into the sun-filled back room and picked up scattered threads of conversation, savoring the chance to sit and talk after our work. I drifted out of the conversation and found myself admiring the room. It's lovely, true, but I don't know if I'd say it's my absolute favorite of our cottages. They all compete in their own ways. Most of our cottages or houses have some form of sun room, some flowing white curtains to highlight the sunshine, some assortment of blues and grays and greens to make a more restful environment.
That's when I realized that what Ryan and Nancy have built is not just a vacation rental business. Any home can be turned into a vacation rental. Honestly, on AirBNB you can select the option to sleep on somebody's couch! But this is different.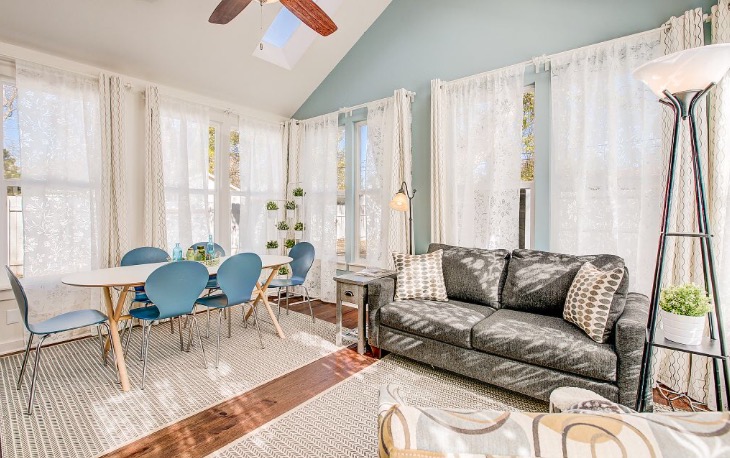 Ryan and Nancy aren't just doing business. They're working hard to bless their guests. Maybe you see it in the form of a military discount, maybe you find it in their collection of local magazines and brochures to help you know the best locations to visit. Maybe it's just that we whip up a jar of pancake mix and a welcome snack-bag, or that we've stocked more kinds of coffee, tea, creamer and sweeteners than I knew existed. Maybe what you needed was a few hours on the TV, Netflix (or Amazon, YouTube, – smart TVs are the bomb.)
We believe in providing everything we can to make your stay in Colorado Springs as easy as possible – your time shouldn't be spent running to grocery stores for that first breakfast, or having to go get coffee before you've had enough coffee to wake up. The hours should be spent other ways – like together, or outside.
So here's to your stay. Here's to making your visit truly wonderful. We care about you.